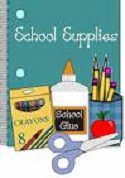 School Supply List for 2012-2013
Mrs. Neff: Room A203
It would be very much appreciated if students could have the following items by the start of school.
Please neatly put your first and last name on all of your supplies with black sharpie. No Trapper Keepers please. Thank you:)
1 accordion-pleated multi-pocket expanding folder
( about 5 pockets)
1
1 and 1/2 inch
binder
with 5 dividers
3 single subject spiral notebooks (wide-rule) green, yellow, blue (approximately 70 sheets)
3 sturdy folders with pockets & prongs (green, yellow, blue)
2 folders of your choice (one labeled "Take Home"; the other labled "Writing")
2 marble composition books (Wide Ruled)

4 jumbo book socks (please vary color/design)
1 pack of wide-ruled loose leaf paper (restock as needed)
2 packs of post-it notes (restock as needed)
Scotch tape or glue sticks
(restock as needed)
2 yellow highlighters
1 set of sharpened colored pencils (markers/crayons may be substituted)
12 high quality sharpened #2 pencils (restock throughout year)
1 high quality small hand-held pencil sharpener
2 green pens if you can find them
(green pencils or thin markers are fine too)
2 thin black sharpies (Put your name on these in Sharpie too. lol)
1 dry erase marker
1 pencil case (small enough to fit in your desk with other supplies)
1 art smock with your name on the back
1 independent reading book to read silently
1 small photo of yourself for a bulletin board
(about 4 x 6 or smaller)
1 box of tissues
(we'll share the boxes throughout the year)
1 upright magazine holder about 3 inches wide to store your reading supplies. (One can be made from a large cereal box. I'll show you how.)
4 new or gently used tennis balls for your desk with a 1/2 inch cross cut in each by an adult
(4 for chair if desired)
1 wide-ruled Writer's Notebook of your choice... you may use last year's if you still have room.
The following items would be helpful

:
Boys: Hand Sanitizer and Gallon zip-lock bags
Girls : Disinfecting Wipes and a roll of paper towels